Maxim GSC Germicidal Spray Cleaner Allow product to penetrate and the surface to remain wet for 3 minutes (for Bloodborne Pathogens: allow surface to remain wet for HIV-1 1 minute and for HBV and HCV 5 minutes).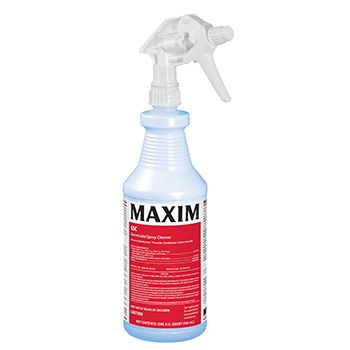 Description
Features: Disinfectant, Virucide, Tuberculocidal On EPA's List N: Disinfectants for Use Against SARSCoV-2. Kills SARS-CoV-2 (COVID-19) in 1 minute
This product is designed specifically as a general non-acid readyto-use non-abrasive cleaner and disinfectant for use on hard, nonporous surfaces in hospitals, nursing homes, locker rooms, public restrooms, schools, office buildings, manufacturing facilities, lodging establishments, and athlete/recreational facilities where housekeeping is of prime importance in controlling the hazard of cross contamination. 
Specifications Color..------------------ Colorless Fragrance-------------------- Lemon pH Range-----------------11.5 - 12.0 Dilution.-----------------.RTU Density .---------. 8.42
12/1 quart  HCP-42000-12         Product Registration No. EPA: 1839-83-45745