Handheld EMist® EPIX360™ Most effective handheld electrostatic disinfectant sprayer in the world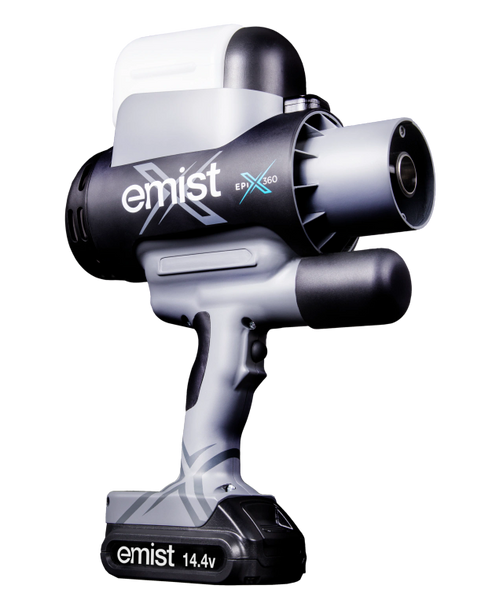 Description
The EPIX360 is the most effective handheld electrostatic disinfectant sprayer in the world. Built to work, this cordless sprayer is powerful, durable, and provides breakthrough application performance – more coverage, less waste, and better results. Simply fill the 8-ounce tank with a safe EPA-approved water-soluble disinfectant, pull the trigger, and the EPIX360 goes to work laying down an even, uniform and wraparound layer of germ-killing power up to 4,000 high-touch point sq.ft.
Plus, with the advanced EPIX Charge Detect™ Technology, grounding is never an issue. And, unlike other electrostatic equipment, the EPIX360 works flawlessly and consistently, greatly improving transfer efficiency and eliminating shock and electrical hazards.
Lightweight at just 2.45 pounds bare and only 3.0 pounds fully loaded, the EPIX360 is lightweight and easy to operate. It's the most compact high performance electrostatic sprayer you can get your hands on.
A complete system includes sprayer, tank, two batteries, charger, carrying case, training toolkit and 1-year warranty.